Tile & Grout Cleaning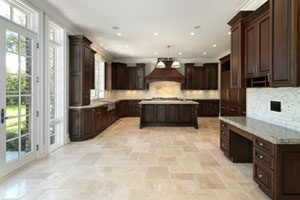 Tile is a very durable and versatile flooring choice. Tile works well in kitchens, bathrooms and other areas where water may be an issue, such as utility rooms and laundry rooms. Not only does tile provide a classy look, it also is very durable and is fairly easy to clean. However, while you can give tile a good surface cleaning, it can take professional help to get a deep clean, especially for your grout lines. Acme Carpet Cleaning of Alvin, TX, provides tile and grout cleaning services. We are a family owned and operated company that strives to provide excellent customer service.
Getting a professional tile and grout cleaning provides you with a number of benefits. A deep clean can ensure your tile and grout is free of layers of grime and residue. Regular deep cleaning of your tile also helps to maintain your floors, which makes them last longer and protects your investment.
When you hire Acme Carpet Cleaning for tile and grout cleaning, you can be assured of a safe and professional job. We employ only experienced and professional cleaning technicians, and they use only the safest and most superior equipment and cleaning solutions.
For all your tile and grout cleaning needs, give Acme Carpet Cleaning a call. We serve homes and businesses in and around Alvin, TX. We are a family owned business that strives to provide excellent service to all of our customers.