Pet Odor Removal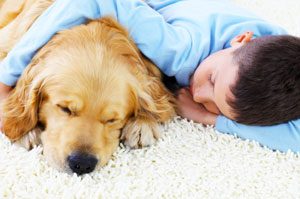 When beloved pets live in the home as part of the family, we all know that accidents happen. If your pets have stained your carpets and you are unable to eliminate the lingering odor of pet urine, we are here to help. Acme Carpet Cleaning, located in Alvin, Texas, is a family business focused on providing quality customer service in the area of carpet and upholstery cleaning.
If you are experiencing an issue with lingering pet odors in your carpet, rugs or upholstered furniture, our cleaning service will be able to assist you by giving your home or business a deep cleaning that will ultimately protect your investment. Our family-owned and operated cleaning service has over 20 years of experience that allows us to professionally remove pet stains and odor from your furniture and carpets. Our cleaning equipment reaches high temperatures, enabling us to remove dirt and grime located deep within the fibers of your
carpets.
As a family owned and operated business, we value our reputation in the community. It is our aim to ensure that our customers are greatly satisfied with our cleaning performance. Our customers return to us again and again when the need arises. We hope that you will let us show you what our idea of true customer service is.